Due to personal reasons, this post is two months late, so I would like to thank my reading partner in this Philippine literature reading project, Mel U of The Reading Life, for being very patient with me. For our fifth post, we feature another great and accomplished Filipino writer, Nestor Vicente Madali Gonzales, who is best known as N. V. M. Gonzales.
The Reading Life featured one of Gonzales' short stories, The Bread of Salt
, which I enjoyed thoroughly. Next to rice, bread is almost a staple food among Filipinos.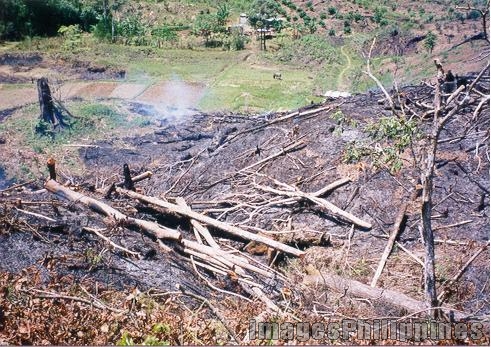 The kaingin system in the Philippines, the result of which is aptly described by Filipino writer N. V. M. Gonzales as "ash-covered loam" (source: www.imagesphilippines.com)
For Simple Clockwork, I would like to feature another of his wonderful works,
Children of the Ash-Covered Loam
(1951). The title itself is evocative of various gray images, don't you think? In the story, we follow Tarang, a young boy who is hyperactive in the figurative sense. He is hungry for knowledge of things around him. As he moves from his parents' hut to his pig's pen to a side in the fields where farmers implement the harsh
kaingin
system and back to his room as storms rage outside, we see a lot of images, a lot of sceneries well put together. Personally, reading this story, I can almost see a lovely portrait on the wall with quietly and gracefully moving images. You know, Gonzales just brought out the poetic side of me when I described his work. Yes, he is that kind of writer. After reading a story, the images remain. They stick, leaving a strong and lasting impression. The wonder of it is that Gonzales did not employ a lot of fanciful words or long sentences. The story is flawless just as his writing is clear, convincing, and realistic.
Children of the Ash-Covered Loam has been translated into various languages and published in foreign literary magazines. It is a story about the people in the rough and rugged rural areas of Mindoro, about fathers making the decisions in the house, about mothers trying very hard to support their husbands, of children who, at an early age, toil side by side with their parents in the fields, about the tedious kaingin system and how hazardous it is for the residents, of the clash between pagan beliefs and modern ways, and how the cycle of life goes on. For me, as a person who witnessed and experienced the shift of the rural to urban ways in my own town at an early age, the story was an easy and nostalgic read. For instance, to sever the neck of pullet to ward off evil spirits and bring abundant harvest, as what Tarang's father does in the story, is reminiscent of the early birthdays I had when my grandfather would do the same, make a cross on my forehead out of the hen's blood, and say an incantation to ward off evil spirits and bring me good luck.
I thoroughly enjoyed reading Children of the Ash-Covered Loam and I look forward to other stories by Gonzales who is now in my roster of favorite Filipino writers. I hope you will take the time to read the story.
It can be found here
. You can learn more about Gonzales
through this link
. To learn more about him and his other works, why not head over to Mel's post on him and his work, The Bread of Salt?
Under the Readings in Philippine Literature project, Mel U and I have already featured the following Filipino writers and their short stories. They are:
1. "
Dead Stars
" and "
A Night in the Hills
" by Paz Marquez-Benitez
2. "
Servant Girl
" and "
Magnificence
" by Estrella Alfon
3. "
The Wedding Dance
" and "
The Woman who Looked out of the Window
" by Amador Daguio
4. "
Midsummer
", "
Morning in Nagrebcan
", and "
How my Brother Leon Brought Home a Wife
" by Manuel Arguilla
Mel and I are inviting you to join us in this project. If you are interested, please do not hesitate to send us an email to
enarse@gmail.com
or
rereadinglives@gmail.com
The next Filipino writer we will feature will be Arturo B. Rotor.
- Nancy -